Company Profile

BT Biopresser Ltd. (also known as BT Oil Press) is a part of the concept BT Maskinteknik Ltd. (Mechanical Engineering).
BT Maskinteknik has many years of experience in the machinery industry. Partly as a subcontractor for the metal industry, partly with its own niche market consisting of production of oil presses for environmentally friendly oil pressing and pellet pressing.
BT Maskinteknik has an efficient machine park, consisting of the latest CNC machines. We have our own stock of miscellaneous parts for your presses.
We furthermore delivers everything in pumps, filters and canola oil burner.
Our goal
We strive to provide quality products with very high finish and short delivery times.
We look forward to hearing from your particular company.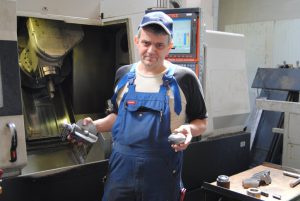 Picture – Brian Thomsen, Owner of BT Biopresser Ltd.
Do you want to know more, please Contact Us